Lecture: Building Jewish Culture Through Stories and Songs
November 1 @ 11:00 am

-

12:15 pm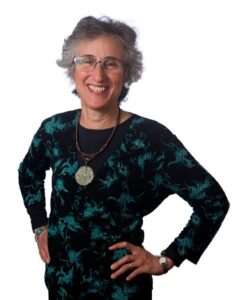 We are excited to announce this year's Kolot Mayim Speaker Series on the theme of Building Bridges: language, song and story. All speakers will be held by Zoom on the first Sunday of each month from November to May (excluding April).
Please join us for our first speaker, Shoshana Litman, Maggidah/Story Teller on Sunday, November 1 from 11:00 AM – 12:15 PM on Zoom.
Shoshana Litman, Maggidah/Story Teller
Building Jewish Culture Through Stories and Songs
Sunday, November 1, 2020 11 AM -12:15 PM on Zoom
Shoshana Litman, acclaimed Maggidah/Story Teller will speak on the topic  of Building Jewish Culture Through Stories and Songs. Shoshana will explore how traditional and contemporary stories and songs continue to influence Jewish culture. She will begin with the story of how she became Canada's first ordained Maggidah (Jewish storyteller) before regaling you with a powerful story of the first professional storyteller sent out by the Hasidic sage, the Baal Shem Tov (z"l), in 1760. You will also hear a profound personal narrative highlighted with original melodies and sacred texts in both English and Hebrew. Shoshana will be happy to answer your questions after her presentation.
Bio: Shoshana Litman tells vivid tales, drawn from traditional sources enlivened with original text and melodies, to audiences of all ages. She has spun insightful stories, often with audience participation, since 1997. First mentored by aboriginal elders, Shoshana realized that stories are at the heart of many world faiths, especially our own. She became ordained as a Maggidah in 2008 and continues to infuse universal truths from Judaism and other traditions into her favorite yarns.To share stories and songs during the pandemic, Shoshana launched her YouTube Channel in June 2020.
https://www.youtube.com/channel/UCsdsUQPS9sSuOn6y-G11djg
Shoshana's festival performances include the St John's Storytelling Festival 2018, TALES: The Alberta Storytelling Festival 2017, Forest Storytelling Festival 2016 & Kootenay Storytelling Festival 2012. She toured Southern Ontario and Montreal for the TD Canadian Children's Book Week Tours in 2018 and 2012. While touring New Zealand in 2013, she told stories in the world's southernmost shul.
In non-COVID times, Shoshana delivers fun storytelling performances every week to local preschools, daycares and Strong Start Programs. She also shares her story magic at elementary schools, libraries, universities, seniors facilities, theatres, houses of worship and other venues throughout the Greater Victoria Regional District.
Please visit Shoshana's website, https://www.maggidah.com for more information.
Details
Date:

November 1

Time:

11:00 am - 12:15 pm

Event Category:

Event Tags: