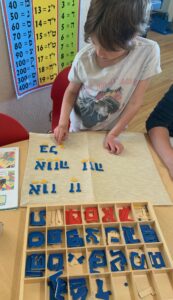 All children's classes and programs are online until further notice.
Bring your children and grandchildren and join with "Mora Ora "
in a
virtual, interactive program for children ages 4-11! 
Starting Wednesday, January 6th, until the end of June 2021. This program will run for 45 minutes to an hour, once a week on Wednesday afternoons at 3:30 pm.
Everyone is welcome, parents and grandparents too!
Children's Interactive Program
Ora Stefanic is a certified teacher and a talented Jewish educator with over twenty years of experience teaching both children and adults. She is a native Hebrew speaker. Art and crafts and other activities will be done together virtually during class. Craft materials will be mailed or delivered to the children's addresses beforehand.
Topics covered
Judaism

Israel

Holidays

Story telling and discussions

 Hebrew review
Tuition Fees
Tuition is $25/month or $150 for 6 months. Kolot Mayim members: $20/month or $120 for 6 months. We will not turn anyone away due to lack of financial resources. For a confidential discussion regarding tuition support please contact our Treasurer, Morris Bleviss at morris@bleviss.com.
For more information on this program, please email km@kolotmayimreformtemple.com
Aleph Bet Montessori Program
L'Dor V'Dor – generation to generation – is a central responsibility of Judaism. As part of our commitment to Jewish childhood education, Kolot Mayim Reform Temple will be re-opening the Aleph Bet Jewish Montessori School with Ora Stefanic in September 2021. Aleph Bet provides excellent Hebrew and Jewish education for children ages 3-12 years old. Aleph Bet Montessori is dedicated to sparking the interest of every child they teach.
Its goal is to foster in every child a love for learning and discovering the Hebrew language and their Jewish Heritage, all of which will last a lifetime. Children that attend this program develop self-respect, respect for others and an awareness of how they can make a positive personal contribution to their family, friendships, community, and the world. For more information please visit the Aleph Bet Montessori website at alephbetvictoria.com. 
As a key element of Kolot Mayim's support of Jewish education, families that are in need of additional financial assistance can contact us for a confidential financial consultation.