Rabbi Lynn Greenhough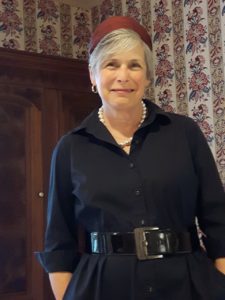 "B'ruchim Haba'im" – Welcome to our congregation, Kolot Mayim. I am very honoured to have been chosen to stand with you as the Rabbi for the congregation for the next two years, 5779-5781.
Over the coming year we will celebrate together at Shabbat services and at simchas, we will stand with each other in times of mourning, and we will ponder together in our times of meetings and discussions. I am greatly humbled by this decision. Thank you.
As Maimonides (Rambam) noted, "Only the greatest person amongst the community, in terms of wisdom and actions, is appointed as sheliach tzibbur," (Hilkhot Tefilla 8:11). Rambam aside, I come to you this year with much enthusiasm and delight. Any wisdom I have is perhaps partly due to my length of years, and mostly due to the opportunities I have had over the years to learn with fine teachers. Learning never ends. 
I have very big shoes to fill – from within the expectations of our tradition, and more recently with the years of guidance offered by the religious leadership. As I titled my thesis, I will do the best I can. Please call me, or e-mail me (km@kolotmayimreformtemple.com) if you wish to speak with me. I am very happy to make appointments to visit, have tea and schmooze a little.
President: 

Sharon Gillean-Shalinsky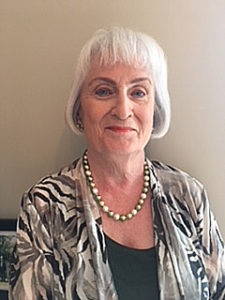 This is Sharon's second year as President and she will be Membership Chair as well until a much-needed volunteer steps in. She has returned to the Board after a 5-year hiatus. Sharon's goal is to help the Kolot Mayim Reform Temple continue to be the caring community of like-minded Jews it has been for 20 years who support and believe in the Reform tradition. She trusts this will best be accomplished by focusing on the needs of our members, and by making relationships central to how we relate to each other personally and within the context of our congregation. 
Sharon has extensive entrepreneurial and corporate experience, primarily in executive education, marketing and sales management. She also taught applied marketing courses at McGill University, the University of Victoria, Royal Roads University, and with the Canadian Professional Sales Association. Her last paid position was that of Executive Director of the Royal Roads University Foundation from which she retired in 2005.
Sharon has always been active in the Jewish community, both in Victoria and in Montreal. For example, she was on the board of the Greater Victoria Jewish Community Centre for many years, volunteered with the local Combined Jewish Appeal, and was a volunteer fundraiser with both Camp B'Nai Brith and Temple Emmanuel Beth Shalom in Montreal. Outside the Jewish community Sharon has been on or chaired the board of the Broadmead Care Foundation, the Board of the Fairbank Calligraphy Society, and has been a mentor with Leadership Victoria.
Sharon has been happily married to Jack Shalinsky for over 30 years; together they share a vibrant family life and a deep commitment to the Reform Movement, the Jewish community, and Israel. Sharon and Jack have been members of Kolot Mayim Reform Temple since 1999, almost the inception of our congregation in 1998.
Board of Directors: 2020-21
Hebrew School Committee:  Leah Kinarthy
Vice-President – Vacant
Treasurer – Morris Bleviss
Secretary – Caroline Hergt
Past President – Joel Fagan
Cemetery Committee Chair –Vacant
Membership Committee Chair – Sharon Shalinsky
Members at large – Richard Weiss, Gilda Good
N.B. Constitution calls for up to 12 members, so additional volunteers warmly welcomed as there are only 8 of us right now.
OTHER KEY VOLUNTEERS 2020-21
Ritual Committee – Neomi Summers , Morris Bleviss, Liza Silverman
Membership Committee/Temple Activities Committee – Mary Casselman and Anton Nikl
Adult Education Committee/Speaker Series – Marilyn Wolovick
Care and Concern – Deb Weiss
Yahrzeits – Charlyne Ashford
Gabbai –Vacant
Publicity: Anne Petrie
Please contact us if you have any questions or concerns.