Rabbi Lynn Greenhough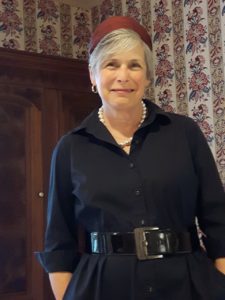 Welcome to Kolot Mayim. I like to think of our growing shul as the "Open Doors" shul. We want all our members – both long-term and more recent members – to feel comfortable and welcomed and included.
Sometimes those open doors provide windows of opportunity. We have expanded out membership geographically over the past several years as a number of people who live in up-Island communities have joined Kolot Mayim. We will continue to provide some of our Shabbat services, holiday services and learning opportunities over Zoom, to allow for everyone to be part of KM.
We have also welcomed our demographics shifting, with a number of younger members joining – and participating in our services. We are also growing in capacity, with more and more members learning to engage and lead sections of our prayer services. I am delighted to welcome this growing interest in participation.
As we grow in numbers, I will try to maintain personal connections with you, as best I can. This summer we have been blessed with a number of simchas – from celebrating Bat and Bar Mitzvah ceremonies, and weddings and babies. We have welcomed people who have completed their conversion process to Torah. I have had the blessing of taking people to mikvah and to Torah, and to their wedding canopy, their chuppah. These are all times of great joy. And I have held hands with family members grieving loss and death. Funerals and burials, shiva and observance of Yartzeits, the anniversary of the burial of our beloved ones, are terrible to manage on one's own. We try to be with you in times of joy and times of grief, in times of struggle and times of celebration.
We build community because we know – each of us – the essential need we all have for community. We need to know others, and have them know us. We need their comfort, and we need their joy. We need to keep the doors of our hearts and homes – and especially our beloved Kolot Mayim open. Please be in touch with me if you want to find a pathway to re-connect or deepen your Yiddishe neshamah, that ember of light that is within your soul, longing for the light and warmth of Jewish connection.
Please call me, or e-mail me (km@kolotmayimreformtemple.com), if you wish to speak with me. I am very happy to make appointments to visit, have tea and schmooze a little.
President: Doug Marshall
Doug has been a member of Kolot Mayim since 2020, soon after he and his wife, Pat Dunphy, moved to Victoria. He became the president in 2022. Doug also sits on the board of the Victoria & Vancouver Island Jewish Burial Society. Previously, he was a member of Temple Israel in Ottawa for 20 years and served as a board member, as well as vice-president and treasurer.
Doug has worked in the public, private, and non-profit sectors. Following graduation, he was a founding partner of a store-front law firm. In the federal public service, he worked to ensure that human rights legislation was respected, including privacy rights. Doug also conducted investigations to determine whether lobbyists complied with federal law. Throughout his career, he was active in the trade union movement and was elected and served as the full-time national president of a union with 26,000 members in Canada and around the world. Doug has been a volunteer board member of several organizations, including a daycare on Parliament Hill, a museum, and two cooperative housing corporations.
Board of Directors: 2022-23
Members are always welcome to communicate with Board members. You can send an email to km@kolotmayimreformtemple.com. Please indicate the Board member or members to whom your email should be directed. In accordance with the Kolot Mayim privacy policy, your email will only be forwarded to those Board members you identify.
PRESIDENT: Doug Marshall
VICE PRESIDENT: Neil Marcovitz
SECRETARY: Judith Belton
TREASURER: Morris Bleviss
PAST PRESIDENT: Sharon Shalinsky
MEMBERSHIP CHAIR: Pat Dunphy
TRUSTEES:
Joshua Torontow

Gilda Good

Susan Halpert

Anton Nikl

Ariel Louwrier
COMMITTEES
Education Committee: Marilyn Wolovick, Chair
Religious Services Committee: Morris Bleviss, Chair
Please contact us if you have any questions or concerns.