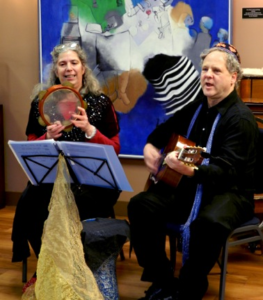 Kolot Mayim regularly invite musicians to join our Shabbat services, and encourage our own members to participate as well. We have both a modern and traditional selection of music played by Kouskous who have an extensive repertoire of Jewish music from both the Sephardic and Ashkenazic traditions.
Our High Holy Days are filled with music, cantors, singers, violinist and cello solos, Kolot Mayim claims to have the most beautiful Kol Nidre service in Victoria. Come and see for yourself, how moving and beautiful our High Holiday services are; something to inspire your spirituality and growth for the coming year.
---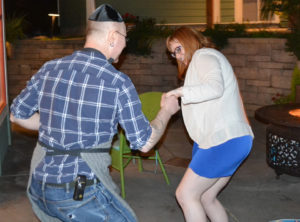 Music enhances the social and spiritual experience of our Jewish heritage. Dancing the night away for Sukkoth has been one of our favourite festival celebrations. Pizza in the Sukka is followed by live music and dancing to celebrate the harvest festival.
Our congregation is known for its joy of singing and whether we are reading poetry or using Deaf Sign Language to express prayers in motion, there is a way for everyone to participate at Kolot Mayim.