Building Bridges: Kolot Mayim Speakers Series 21/22 starts November 7th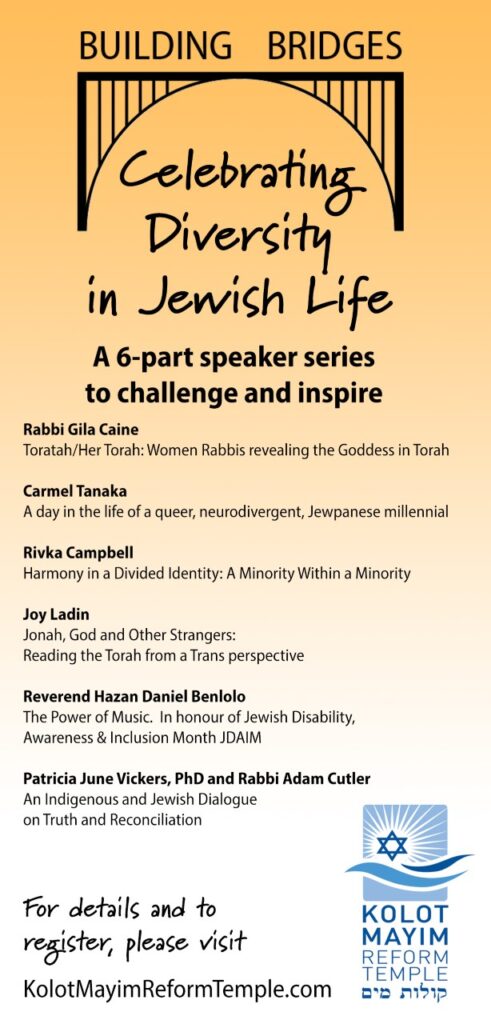 In recognition of all that is happening in our world, cultural diversity is of utmost importance. It is this reality that Kolot Mayim's 2021/22 speakers' series hopes to address and illuminate. Canada's recent first-ever National Day of Truth and Reconciliation pointed us toward the need to support Indigenous peoples in reclaiming their traditions and healing from the legacies of colonialism and residential schools. The Black Lives Matter movement has highlighted the racism and oppression that Black people experience in our society. Gender and feminist issues are continuing challenges that we must face into along with the suffering of many other marginalized people — including those who may feel they do not 'belong' within our own community.
Sunday, Nov. 7, 2021 Rabbi Gila Caine, Beth Ora Temple in Edmonton. Toratah/Her Torah: Women Rabbis revealing the Goddess in Torah.
Sunday, Dec. 5, 2021 Carmel Tanaka, Founder and Executive Director of JQT Vancouver (Jewish Queer and Trans Vancouver): A day in the life of a queer, neurodivergent, Jewpanese millennial
Sunday, January 9, 2022 Rivka Campbell, Executive Director of Jews of Colour Canada. Harmony in a Divided Identity: A Minority Within a Minority
Sunday, February 6, 2022 Joy Ladin,Poet, author, and first openly transgender professor at a Jewish Institution. Jonah,God and Other Strangers: Reading the Torah from a Trans perspective
Sunday, February 13, 2022 Reverend Hazan Daniel Benlolo, Shira Choir, Spanish & Portuguese Synagogue, Montreal. The Power of Music: In honour of Jewish Disability Awareness and Inclusion Month JDAIM
Sunday, March 20, 2022 Patricia June Vickers, Indigenous artist and independent Consultant and Rabbi Adam Cutler, Senior Rabbi of Adath Israel Congregation in Toronto. An Indigenous and Jewish Dialogue on Truth and Reconciliation.