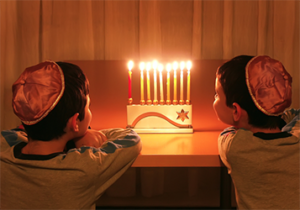 Kolot Mayim is a warm and welcoming congregation. Prayer is a language that each of us speaks and hears in a different way. We pray together with ruach, music and innovation while preserving Jewish tradition. All are welcome to worship with Kolot Mayim Reform Congregation, our services are held at the Jewish Community Centre on 3636 Shelbourne Street in Victoria, British Columbia.
Participation
Members are welcome to participate in all aspects of our services and celebrations… your heart will sing and your spirit soar. Kolot Mayim appreciates differences, we worship together in an inclusive and respectful atmosphere. Whenever possible, we encourage our children and youth to attend services and take active roles within them. 
Kolot Mayim services are a combination of English and Hebrew, transliteration is available for those that cannot read Hebrew. Our services are fully egalitarian with equal participation by men and women. Our members come from those with Orthodox, Conservative and Reform backgrounds as well as those who are Jewish by choice.
Shabbat
We have Shabbat services every other Friday night at the Jewish Community Centre (JCC)  and Torah services every other Saturday morning. Food brings our community together so we have oneg Shabbat after our evening services with Challah and blessings, tea and desserts and a pot luck lunch after our Saturday services. Friday night services always end with an Oneg Shabbat, sharing food together and socializing, which adds a lovely social dimension to our time together. 
Holidays
Jewish Holidays are celebrated and enjoyed, from Sukkot to Simcha Torah, Shavuot to Lag B'Omer. Most of the time holiday and festival celebrations are at the JCC but sometimes they are in private homes, and at Cadboro Bay Beach for Tashlich on Rosh Hashanah. High Holiday services are at the Jewish Community Centre and for the past few years we have enjoyed a break the fast meal at a local restaurant with a large private room for our participants.