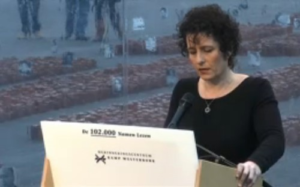 Shavua tov, everyone. One of our members, Johannes Denee will be leaving for Holland this coming week for a very significant event. Johannes grew up in a Holland, in a country ravaged by WWII.  He has been haunted for many years by the knowledge of how many Jews from his country were murdered. One of the camps, Camp Westerbork, was known as 'the foyer of Hell' during the Second World War. It was a transit camp to concentration camps like Auschwitz and Sobibor. The camp was built in 1939, when it was first used as a refugee camp. Eventually, 102.000 Dutch Jews were sent to their deaths in Sobibor and Auschwitz through the Westerbork transfer camp.
There will be a public readings of the names of each of the Jews who were sent to the death camps, and Johannes will be one of the people reading.  He sent me the following: "The readings begin at 5 pm on January 22, and continue till 3.30 pm on the 27th. Keeping in mind that we are 9 hours behind Holland time, so the 7 pm time will be our 10 am time here on Vancouver Island. I am confirmed for 7 pm on 22nd January to read my share of the Names. Johannes will be engaging in this mitzvah as an act of holiness and teshuvah, an act of great merit.
How fitting that this annual event occurs a few days after we open the book of Sh'mot, the Book of Names, and read the names of the Children of Israel. Rashi teaches that as the Israelites were counted by God in life, so too God counted each of them in their death, so as to make known how precious each person is. Rashi continues with a notation that each person is as compared to the stars in the sky, which God also brings out in their numbers and by their names.
For more information about Westerbork and these readings see the following sites:  www.102000namenlezen.nl      and/or      www.nos.nl