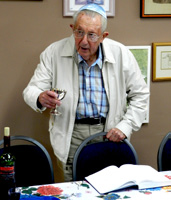 Gerald Samuel Marks was born on February 13, 1930 in Cape Town, South Africa, and died in Victoria General Hospital in Victoria, B.C., in the early morning hours of November 2nd, 2013. He grew up, one of five children of Shimon and Annie Marks, in the midst of the vibrant immigrant Jewish community of Woodstock, Cape Town. After completing high school Gerry spent a year in what was then Palestine in 1946-47, an experience that had a lifelong impact on him. He then did his BSc and MSc at the University of Cape Town, before going on to complete a Ph.D. in organic chemistry at Oxford University in the early 1950s.
While completing his doctorate he courted and became engaged to Marion Tobias, the love of his life, also of Cape Town, who was visiting in England at the time. After marriage, Gerry and Marion lived in Johannesburg for a year, before moving first to Ottawa in 1956 for an NRC postdoctoral fellowship, then on to Chicago for another postdoctoral fellowship, and then to London England for three years, where Gerry and Marion's two children, Lynne and Saul, were born. Soon after Saul's birth, in 1962, Gerry was offered a tenure track position in the department of Pharmacology at the University of Alberta in Edmonton.
He moved up rapidly at the U of A, becoming a full professor by 1967. In 1969 he was offered the Headship of the Department of Pharmacology at Queen's University, and the family moved again. Gerry built the department at Queen's up from very modest beginnings to a cohesive unit that became known across Canada and internationally for its teaching and research. He also had great integrity from the beginning of his career, in not permitting any influence by drug companies on his department or his students, and was well known for his assignment for medical students in which they were required to assess the legitimacy of drug company advertising for a particular medication. Gerry had a brilliant scientific career with major contributions in a number of fields. He made particularly important contributions in two areas of research — the pharmacology of porphyrin metabolism and pharmacology of the gasotransmitters.
His work in the former has led to significant advances in our understanding of how some drugs can be activated to attack the body's mechanisms for drug elimination. In this field, where he published his book, Heme and Chlorophyll, he was a world resource. His work in the pharmacology of gasotransmitters led to opening up a new field of research that explores how certain gases, such as carbon monoxide, are made continuously by the human body, and how they regulate a wide variety of bodily functions. Throughout his research career, Gerry was a great mentor of students and postdoctoral fellows, as well as his younger colleagues. His numerous research publications are a legacy that will serve the biomedical research community, especially that of pharmacology, forever. Gerry was also a wonderful and inspiring university teacher who won the Queen's Alumni Award for Teaching, and put a lot of time into mentoring students and junior colleagues with their teaching.
While in Kingston he was active in curling, golf and in the Jewish community, and as someone with a strong sense of social justice, he fully supported his beloved wife Marion in all of her work with gay rights. Gerry was also known, by his colleagues, students, friends and family for his warmth, patience, kindness, integrity, generosity and sense of humour. His jokes and stories about growing up in an immigrant Jewish community brought to life a world that is no more. Eight years ago Gerry and Marion moved once more, to Victoria, British Columbia, to be with their daughter Lynne, son-in-law John, and most particularly their grandchildren Dori and Mira. Gerry's grandchildren gave him much joy, and he taught them a great deal about Jewish history and culture at a very personal level, and much more about how to be a true mensch, lessons that will remain with them forever.
Gerry's daughter, Lynne, added the following to the above Obit which appeared in the Times Colonist. My dad was never much of a believer – I asked him once if he believed in an afterlife, and he said that he believed that the way he would live on would be through his children and grandchildren. At the same time, Jewish culture, Jewish history and Jewish religious practice were very important to him. As Dr. Ted Rosenberg said to me the week my dad was in the hospital after his stroke – it was who he was "through and through". My dad was raised in an immigrant Jewish neighbourhood in Cape Town. He went to cheder (Hebrew school) every day after school, and learned excellent Hebrew, as well as all of the prayers, and a great deal of Torah and Jewish history. His grandfather had helped found the local shul, and his father went to shul every day – except Saturday, when there was too much work in the shop. As my dad got older, he became more and more involved in local synagogues in his community. In Kingston he played an active role in the newly formed Reform synagogue, serving as president and in other executive positions over the years.
When he made his last move – to Victoria in 2005 — he immediately became actively involved in Kolot Mayim. He and my mother Marion went regularly to Friday night services. The congregation soon realized that my dad had a great deal to offer in terms of knowledge of Hebrew and of the prayers, and he was quickly enlisted in the ritual committee, and was soon taking his turn in leading services in rotation with other knowledgeable members of the congregation. After only a few years in Victoria he became President of the congregation. He enjoyed working with members of the community, and dealing with the politics and ironies present in any shul, although sometimes the job of President was a bit taxing, as his care for my mother took more and more of his time. After he ceased to be president, he was often on the ritual committee, and he continued to be a very regular attender at Friday night services, both before and after my mother's death.
As I sometimes witnessed on the much less frequent occasions when I attended services, my dad was very warm and welcoming to any and all new attendees at services. After he died, a number of people mentioned that with his inclusive and friendly manner he had immediately made them feel a welcome part of the congregation. He enjoyed the services, and he enjoyed the people, taking a keen interest in what was happening in the congregation, and always providing me with the latest gossip about the community. In addition to leading services, which he did less in the last few years, any Friday night that he attended services (which was almost every Friday night), he was expected to recite the Kiddush over the wine. He sang the complete prayer, in his South African inflected Hebrew, a melody he had learned in cheder in the 1930s, a melody that had been used for centuries before him in the shtetls of Eastern Europe.
While I have found it hard to attend services at Kolot Mayim after his death, as his presence remains palpable to me in that context, it is also heartwarming to be in the presence of those I know are also missing such a vital part of their community.
Yit'gadal v'yit'kadash …
may his memory be for a blessing.